Make your company's vision for excellence a reality!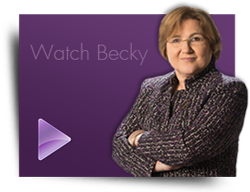 Why an Operations Strategy
The journey to excellence is not a simple one, nor does it follow a straight line. Operations executives value having Becky by their side to plan and navigate an effective route.
With this intensive mutual commitment service Becky will spur you and your team to move as quickly as your organization can handle, but no faster.
She will advise, challenge, verify and explain as your strategy comes together, priorities are defined, and implementation evolves.
Common results are:
Profitable growth enabled by freed capacity and capabilities optimized for your markets
A linchpin for consistent operational priorities and decision making
A road map to integrate business objectives and operational priorities
Competencies that deliver value long after Becky is gone
This service is optimal for:
Manufacturers concerned with meeting accelerating market demands
Operations chasing rather than co-leading the business
Leaders who want expert help determining and implementing the best operations strategy for their environment