THE ONE-DAY OPERATIONS STRATEGY
Three weeks remain in 2017. Take one of those days to outline and prioritize your operations strategy for next year.
Go to a place where you can think. Refuse any and all interruptions, including email and phone. These steps can and should be completed in under one hour each. Success, not perfection.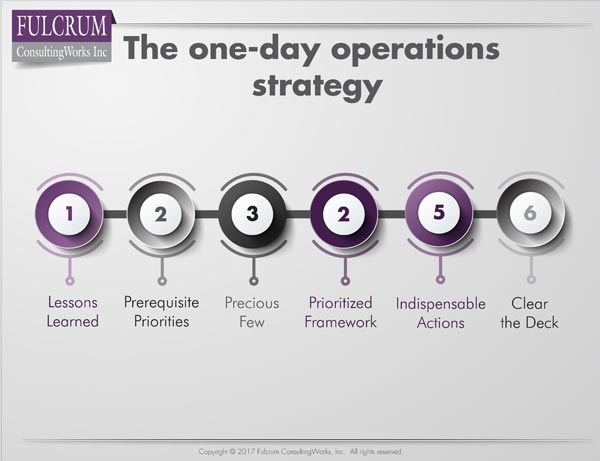 Lessons Learned:

Reflect on 2017. What worked? What didn't? How should those lessons be incorporated into 2018 and beyond?

Prerequisite Priorities

Reflect on business and industry trends. Which operations accomplishments were insufficient? Have you built the foundation to springboard to breakthrough?

If not, problem solve that failure. Experience tells me a short-term outlook, internal focus, lack of trust, and distraction are likely culprits. What is holding you back? The answer is sitting there waiting for you to say the words. Your number one priority has to be resolving that issue.

Precious Few

Reflecting numbers 1 and 2 above, clearly state no more than five reboots or adjustments operations must execute.

Prioritized Framework

Verify that your prerequisite and precious few are consistent with company mission, vision and values. Now sequence them in order of importance—no ties.

Indispensable Actions

Label high-level actions indispensable to executing those strategic priorities. Look for commonalities and dependencies. Document clear accountabilities for each.

Clear the Deck

List every major project under way and previously planned for 2018. Park every project that doesn't align with these strategic priorities.
Including two breaks and lunch, in a single work day you have set the course for next year. The next day share it with a few key peers and direct reports, requesting suggestions for overcoming perceived weaknesses. Document needed adjustments and roll it out.
Enjoy your time off during the holidays.
When you return, stick with it. Every day. After all, you've learned lessons, considered lapses, set clear priorities and accountabilities and cleared the deck. It's up to you to keep operations between the bumpers and moving the direction you've set.
Transforming Operations. Transforming Business.®

Let's discuss how Manufacturing Greatness can help you become a better manufacturing operations leader. Additionally, my latest book, Start Smart, Finish Strong: Forging Your Path to Operational Excellence and Long-Term Success in the Manufacturing World is available at Amazon, Kindle, and iBooks.